The thing about digital marketing is, you always have to stay ahead of the game. And producing relevant and quality content is one of the best moves you can make.
In the vast sea of marketing experts and resources, the real challenge lies in identifying the best content marketing blogs that can inspire and inform your strategies.
We're lucky to partner with a diverse mix of clients and agencies that keeps us at the forefront of digital marketing trends and provides us with early access to platform beta tests.
As a result, this unique position enhances the insights in our own marketing blogs and allows us to offer recommendations that are ahead of the curve, ultimately driving more impactful results for you.
Good news is that we're not keeping it a secret. We're here to spill the beans on some of the best content marketing blogs out there. The ones that make us go "aha!" – blog examples that truly hit the mark.
Jump to:
23 Best Content Marketing Blogs
Content marketing isn't solely about churning out blog posts or social media updates; it's a strategic approach that fuels business growth, centering around producing content that provides real value to the audience.
To succeed in content marketing, you need careful planning and a dedication to consistently provide high-quality content. And if you're looking for ways to refine your approach, we've got you covered with some of the best resources for content marketing blogs.
1. Hubspot for Inbound Marketing
Known to many, Hubspot is one of the leading tools for inbound marketing, they offer a comprehensive suite of blogs about marketing, sales, and customer service tools.
Image Source: Screenshot from https://blog.hubspot.com/
What can you learn from them:
Industry Thought Leadership: HubSpot is considered an authority in the inbound marketing and content marketing space. They frequently publish research reports and industry benchmarks, providing valuable insights for marketers.
Wide Library of Content: They also have an extensive library of content marketing resources, including articles, guides, ebooks, and webinars. Their content covers a wide range of topics, from content strategy and creation to SEO and social media marketing.
Educational Focus: HubSpot's content is highly educational and caters to both beginners and advanced marketers. They break down complex concepts into easy-to-understand articles and offer step-by-step guides to implement strategies effectively.
Multimedia Content: In addition to written content, HubSpot offers podcasts and video content. This multimedia approach caters to different learning preferences and allows marketers to choose the format that suits them best.
2. XYZ Advantage for Performance Marketing
XYZ Advantage is a performance marketing agency, dedicated to helping clients boost their revenue. We specialize in PPC, SEO, CRO, and our blogs provide easy-to-understand insights to help you make the most of these strategies.
Image Source: Screenshot from https://xyzadvantage.com/news/
What can you learn from them:
Thought Leadership: Through their blogs, XYZ Advantage establishes itself as a thought leader in performance marketing. They not only share their knowledge but also shape the conversation around emerging trends and practical application of marketing best practices.
ROI-Driven Marketing: Their blogs span a multitude of topics, ranging from optimizing landing pages to mastering Google Ads, SEO, and holistic digital marketing strategies—all with the core objective of maximizing your ROI.
In-Depth Insights: XYZ Advantage's blogs go beyond surface-level tips and delve into the nuances of marketing strategies and tactics. They provide readers with in-depth insights, industry insider advice, and actionable tips from right off the bat successful campaigns.
3. LinkedIn for B2B Marketing
Keeping up with the ever-changing needs of digital consumers, LinkedIn launched LinkedIn Marketing Solutions Blog as their official blog page dedicated to providing marketers with insights, tips, and resources to enhance their marketing efforts on the platform. 
What can you learn from them:
Platform Authority: LinkedIn Marketing Solutions Blog is an official resource provided by LinkedIn, giving it authority and credibility as a source of information and best practices for marketing on the platform.
Business Expertise: The blog focuses exclusively on marketing strategies and techniques tailored to LinkedIn, making it an invaluable resource for businesses and professionals looking to leverage the platform effectively.
In-Depth Content: LinkedIn Marketing Solutions Blog offers in-depth articles that cover a wide range of topics, from sponsored content and advertising to company pages and organic reach. The content is rich with insights and actionable advice.
LinkedIn Integration: Marketers can easily apply the insights and strategies shared on the blog directly to their LinkedIn marketing campaigns, making it a practical and actionable resource.
4. Ahrefs for SEO (general tutorial, tips)
Ahrefs is a reputable and widely used SEO toolset that offers a range of features for analyzing and optimizing websites, their blog section offer expert tips and SEO general tutorials.
What can you learn from them:
Expertise and Authority: Ahrefs is known for its deep expertise in SEO, and this expertise is reflected in its blog content. The blog is written by industry experts who have a wealth of knowledge in SEO and digital marketing, making it a trusted source of information.
Data-Driven Insights: They leverage their extensive data and research capabilities to provide data-driven insights and analysis in its blog posts.
SEO Tools and Software Reviews: Ahrefs reviews various SEO tools and software in its blog, helping readers make informed decisions about the tools they use for SEO and digital marketing.
5. Backlinko by Brian Dean for SEO Backlinks
If you're into SEO and you want to save your time in blog reading, read what Brian writes. Its blogs are both educational and actionable.
What can you learn from them:
High-Quality Content: The blog places a strong emphasis on producing high-quality content. Posts are well-researched, well-written, and often include visuals, making complex SEO concepts easier to understand.
Innovative Techniques: Brian Dean is known for introducing innovative SEO techniques and strategies, some of which have become industry standards. His blog is a go-to resource for staying updated on the latest trends and tactics.
Content Variety: While the primary focus is on SEO, Backlinko covers a wide range of topics related to digital marketing, content marketing, link building, and more, offering a comprehensive resource for marketers.
6. Siege Media for SEO Strategies
Siege Media specializes in content marketing, they could be you go-to resource when it comes to customer-centric and data-driven content.
What can you learn from them:
Data-Driven Approach: Siege Media frequently incorporates data and research into their blog posts. They conduct surveys, collect data, and provide readers with valuable insights backed by statistics and evidence.
Visual Content: Siege Media understands the importance of visual content in content marketing. They include high-quality visuals, such as infographics and charts, to enhance the readability and engagement of their blog posts.
Practical Tips and Case Studies: Their blog posts often include practical tips and actionable advice that marketers can implement in their own campaigns. They also feature case studies that showcase real-world examples of successful content marketing strategies.
Educational Resources: Beyond their blog, Siege Media offers downloadable resources and guides that readers can access for a more in-depth understanding of content marketing strategies.
7. Search Engine Land for SEO News and Algorithm Updates
Search Engine Land is a well-established online publication dedicated to covering the latest news and trends in the field of digital marketing, with a primary focus on search engine optimization (SEO) and search engine marketing (SEM). 
What can you learn from them:
Comprehensive Coverage: Search Engine Land provides extensive coverage of various aspects of digital marketing, including SEO, SEM, PPC, content marketing, social media marketing, and more. Its broad scope ensures that readers can access insights on a wide range of topics.
News and Updates: The blog delivers up-to-the-minute news and updates related to the digital marketing industry. This real-time information helps marketers stay informed about changes in search engine algorithms, advertising platforms, and industry trends.
Whitepapers and Guides: They also offer downloadable resources such as whitepapers, research reports, and comprehensive guides, providing readers with in-depth knowledge on specific topics.
8. SterlingSky for Local SEO
SterlingSky is a well-known digital marketing agency that can give you helpful insights about local search engine optimization (SEO) and Google My Business (GMB) management. 
What can you learn from them:
Industry Insights: SterlingSky shares valuable insights and tips specifically related to optimizing and managing Google My Business profiles, which is essential for local businesses to appear in Google's local search results.
Local SEO Tools: The blog also reviews and recommends local SEO tools and software that can assist marketers in optimizing their local search efforts.
Local Search Trends: SterlingSky keeps readers informed about the latest trends and developments in local search, ensuring that marketers stay up-to-date with this dynamic field.
9. Screaming Frog Blog for Technical SEO
Screaming Frog is an SEO spider tool, their blog section showcases extensive knowledge in SEO providing practical guidance and industry insights to anyone looking to enhance their SEO knowledge.
What can you learn from them:
Industry-Leading Tools: Screaming Frog's blog often features tutorials and guides related to its SEO spider tool and other SEO software. Readers can learn how to use these tools effectively for website analysis and optimization.
Technical SEO Focus: The blog covers technical SEO topics in detail, including SEO audit and analysis, offering step-by-step instructions and best practices.
10. Unbounce for Conversion Optimization
Unbounce is a great source when you need help with creating high-converting landing pages for online marketing campaigns. 
What can you learn from them:
Landing Page Expertise: Unbounce specializes in landing page creation and optimization, making their blogs a go-to resource for everything related to landing pages – from design and A/B testing to copywriting and user experience.
Conversion-Focused Content: Their blogs are dedicated to helping marketers and businesses optimize their conversion rates. They provide insights, strategies, and tactics specifically designed to improve landing page performance and drive conversions.
A/B Testing Insights: Unbounce places a strong emphasis on A/B testing and experimentation. Their blogs provide guidance on how to set up and conduct effective A/B tests to improve landing page performance.
Practical Tips: Similar to the blog reference above, Unbounce's blogs also offer practical tips that marketers can apply to their landing page campaigns immediately. These tips are often backed by examples and case studies.
11. ConversionXL for Conversion Optimization
ConversionXL is highly regarded for its content and training programs, their blogs guide you on  conversion optimization and growth marketing. 
What can you learn from them:
Conversion Optimization Focus: CXL places a strong emphasis on conversion optimization, making it an ideal resource for marketers and businesses looking to enhance their website's performance and drive more conversions.
Comprehensive Content: They cover a wide range of marketing-related topics, including A/B testing, UX design, email marketing, landing page optimization, and more.
Multimedia Content: In addition to written content, ConversionXL offers webinars, video tutorials, and podcasts, catering to various learning preferences.
12. Cyphon Digital for Web Design and Development
Cyphon Digital is a Portland-based full-service marketing agency that specializes in all things website, giving you complete resources of web design best practices and web development tips.
What can you learn from them:
Industry Trends: Cyphon Digital keeps up with the latest trends in website design and shares useful insights to help businesses stay ahead. They provide industry trends catering to different markets such as B2B, e-commerce, corporate, or even small business.
Web Design Insight: With their diverse topics, you will not be left out whether your business is thinking of launching a new website, redesigning, rebranding, or simply want to know how to stage a modern website layout.
Real-Brand Examples: Through the use of concrete and real-brand examples, Cyphon Digital demystifies intricate concepts, making it easier for readers to apply these insights effectively in their own strategies.
Thought Leadership: Being in the web design industry for years, Cyphon Digital establishes their position as thought leaders within the web design space, showcasing their case studies and personal projects.
13. W3Schools for Website Development
W3Schools is an online resource for web development tutorials and documentation, primarily focusing on web technologies. 
What can you learn from them:
Reliable Tutorials: The site offers practical tutorials, examples, and code snippets that marketers can use to enhance their understanding of web technologies. This knowledge is essential for optimizing websites, creating landing pages, and improving user experiences.
Responsive Design: W3Schools often covers responsive web design, which is a critical aspect of modern digital marketing. Marketers need to ensure that their websites and content are mobile-friendly to reach a broader audience.
Web Performance: The site also covers topics related to web performance optimization, which is crucial in creating fast-loading websites for better user experiences and search rankings.
14. Shopify Plus Blog for Ecommerce Website
Shopify is a widely used e-commerce platform designed for high-growth, high-volume businesses. Its blog, the Shopify Plus Blog, focuses on various aspects of e-commerce, including marketing. 
What can you learn from them:
E-commerce Expertise: Shopify's blog offers practical and actionable advice for e-commerce marketers and business owners looking to improve their marketing efforts, reflecting the company's deep expertise in online retail.
E-commerce Strategy: Their blogs also covers a wide range of e-commerce strategy topics, including product launches, pricing strategies, abandoned cart recovery, and more.
Technology and Tools: They often discusses the latest e-commerce technologies and tools that can benefit online retailers, such as apps and integrations.
15. Tinuiti Blog for PPC – Paid Shopping
Tinuiti is where you can learn various aspects of digital advertising, including paid media, social media marketing, and performance marketing. 
What can you learn from them:
Digital Marketing Expertise: Tinuiti's blog reflects the agency's expertise in digital marketing. It covers a wide range of topics, including paid advertising, social media marketing, SEO, email marketing, and more.
Multi-Channel Approach: Their blog also acknowledges the importance of a multi-channel marketing approach. It covers strategies and insights related to various marketing channels, helping marketers develop integrated and effective campaigns.
Industry Updates: Tinuiti keeps readers informed about the latest developments and updates in the digital marketing industry, ensuring that marketers stay current with evolving trends and technologies.
16. Zapier for Marketing Automation
Zapier is a widely recognized online automation tool and its blog posts offer valuable resources for automation integrations including email marketing, social media, and more. 
What can you learn from them:
Tools Integration: Zapier connects with thousands of popular apps and services, making it a versatile tool for marketers. Their blogs often provide insights and tips on how to integrate and automate marketing tasks across these platforms.
Automation Guides: They offer practical guides and tutorials on automating various marketing processes, such as email marketing, social media posting, and lead generation. These step-by-step instructions make it easy for marketers to implement automation.
Cross-Functional Content: Zapier's blogs often explore the intersection of marketing with other business functions like sales, customer support, and project management. This holistic approach helps marketers understand how automation can impact various aspects of their organization.
User-Friendly Language: Their content is written in a user-friendly and approachable style, making it accessible to marketers with varying levels of technical expertise.
Free Resources: Bonus is, many of Zapier's blog posts are freely accessible, providing a wealth of knowledge to marketers without any cost.
17. Woodpecker for Email Marketing
Woodpecker is a provider of email outreach and automation software primarily designed for sales and lead generation. Their blog section focuses on topics related to email marketing and sales outreach, which marketers can get valuable insights from.
What can you learn from them:
Email Marketing Expertise: Woodpecker's blog specializes in email marketing, providing detailed insights, strategies, and best practices related to email outreach. Email marketing is a critical component of many marketing campaigns, making this expertise highly valuable.
Useful Templates: Woodpecker often shares email templates and examples that readers can use as a starting point for their own campaigns, saving time and effort.
Automation Tips: Given Woodpecker's focus on email automation, the blog also provides tips and best practices for automating email campaigns effectively.
18. Hunter.io for Email Marketing
Hunter.io is primarily known as an email finder and verification tool for outreach and marketing purposes. While it may not have an extensive blog focused on marketing topics, it does offer a blog section with valuable content related to email outreach.
What can you learn from them:
Practical Guidance: The blog offers practical advice and actionable tips for marketers and sales professionals looking to improve their email marketing efforts. It covers various aspects of email marketing, from crafting compelling subject lines to optimizing email deliverability.
Email Outreach Strategies: Their blog covers some strategies for email outreach, including prospecting, lead generation, follow-ups, and conversion tactics.
Email Personalization: Hunter.io also shares techniques and ideas for personalizing email outreach, enhancing engagement, and conversion rates.
19. Hootsuite for Social Media Marketing
Hootsuite is known for its expertise in social media marketing and it regularly publishes content about social media management best practices, trends, and strategies.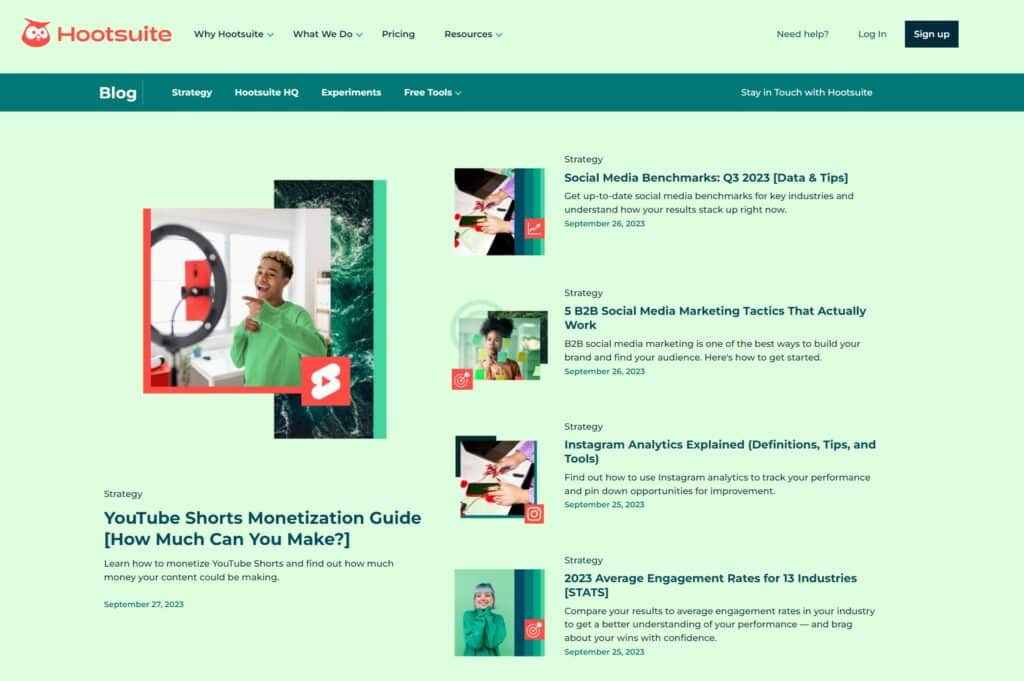 What can you learn from them:
Social Media Focus: Hootsuite specializes in social media management, and their blogs are centered around strategies, tips, and best practices for effectively using social media for marketing purposes.
Platform Expertise: Hootsuite covers a wide range of social media platforms, including Facebook, Twitter, Instagram, LinkedIn, and more. Their blogs provide insights specific to each platform, helping marketers tailor their strategies accordingly.
Practical Guides: They offer practical step-by-step guides and tutorials on using Hootsuite's tools as well as general social media marketing guidance. These guides empower marketers to leverage the platform effectively.
Industry Insights: Hootsuite frequently shares industry insights, research findings, and data-backed reports related to social media marketing. This helps marketers stay informed about the latest trends and benchmarks.
20. Buffer Blog for Social Media Marketing
The Buffer Blog is the official blog of Buffer, a social media management platform. Its blog covers a wide range of topics related to social media marketing, content marketing, digital marketing, and other else.
What can you learn from them:
Social Media Focus: As a social media management platform, Buffer has deep expertise in social media marketing. The blog offers insights, strategies, and best practices specific to social media, making it a valuable resource for marketers in this field.
Industry Insight: Buffer is known for its transparency in sharing its own social media strategies and insights, providing readers with real-world examples of what works.
In-Depth Guides: It also offers in-depth guides and tutorials that explore various aspects of social media marketing, including platform-specific strategies, content creation, analytics, and more.
21. Influencer Marketing Hub for Social Media and Influencer Marketing
Influencer Marketing Hub is a platform dedicated to influencer marketing insights, resources, and tools. The industry insights shown in their blogs are a great resource for marketers interested in leveraging influencers for their marketing campaigns.
What can you learn from them:
Influencer Trends: The blog keeps readers informed about the latest trends and developments in the influencer marketing industry, helping marketers stay ahead of the curve.
Tools and Marketing Metrics: Influencer Marketing Hub also discusses discovery platforms and tools, offering insights into how to identify the right influencers for your brand or campaign. Plus, guidance on tracking key performance indicators (KPIs) and ROI.
Content Collaboration: It covers topics related to content collaboration between brands and influencers, including content guidelines, legal considerations, and creative strategies.
22. AspireIQ Community for Influencer Marketing
AspireIQ is a marketing software platform that specializes in influencer marketing and brand collaboration. While it primarily serves as a platform for businesses to connect with influencers and manage influencer marketing campaigns, it also offers valuable marketing insights and resources through its blog.
What can you learn from them:
Expertise in Influencer Collaboration: As a leading influencer marketing platform, AspireIQ has deep expertise in influencer collaboration. Its blog shares insights and tips on finding, engaging, and effectively partnering with influencers.
Partnership Strategies: AspireIQ often shares strategies for building successful brand-influencer partnerships, addressing various aspects such as campaign planning, content creation, and measurement.
Integration with Platform: Their blog also seamlessly integrates with its influencer marketing platform, making it convenient for users to access additional resources and tools.
23. Harvard Business Review for Branding
Harvard Business Review (HBR) is a respected publication that covers a wide range of business topics, including valuable insights and perspectives on marketing.
What can you learn from them:
Credibility and Reputation: HBR is one of the most prestigious and respected business publications globally. Its long-standing reputation for rigorous research and analysis ensures that its marketing-related content is credible and trustworthy.
Expert Contributors: The publication features contributions from experts, scholars, and practitioners in the business and marketing fields. These experts provide valuable perspectives and in-depth analysis in their articles.
Strategic Focus: HBR's marketing articles emphasize strategic thinking and long-term planning, helping marketers develop a holistic approach to their marketing efforts.
What Type of Content is Best for a Blog?
Given the examples above, you might be wondering what type of content is best for a blog?
If you hadn't noticed, the common choice of these informative brands are the how-to or tutorial type. Those that provide a step-by-step guide and clear instructions on how to execute a certain campaign.
But if you need a checklist to help you get started, here are some of the suggested types of content for marketing blogs:
How-To Guides: How-to guides are comprehensive articles that walk readers through a specific process, task, or strategy step by step. These guides provide practical instructions and often include visuals or videos to enhance understanding.
Case Studies: Case studies showcase real-life examples of successful marketing campaigns or strategies. They provide in-depth insights into how a particular approach achieved specific goals, making them valuable for learning and inspiration.
Listicles: Listicles are articles presented in a list format, such as "Top 10 Marketing Tools for 2023" or "5 Essential Tips for Email Marketing Success." They offer easy-to-scan content and can be highly shareable.
Infographics: Infographics combine text and visuals to convey complex information in a visually appealing and easy-to-digest format. They are ideal for presenting statistics, trends, or data-driven insights.
Industry News and Updates: Keep your readers informed about the latest developments, news, and updates in the marketing industry. This type of content positions your blog as a reliable source of information.
With the diverse range of content options at your disposal, your marketing blog can become a powerful tool for engagement, education, and connection. As you explore different strategies, you will discover that there's no one-size-fits-all approach.
So now, how can you create compelling content for your brand?
If you're not just for learning resources but also for practical examples to help you create your own marketing blogs, here's a quick list of tips to help you get started with your content:
Know the Audience You're Talking To: As a marketer, you should be well aware of the significance of understanding your audience persona. Have a specific person in mind, determine your communication approach, and speak their language by anticipating their needs and providing them answers right away.
Set Clear Objectives: Determine the goals of your blog. Are you looking to drive traffic, generate leads, or establish thought leadership? Clearly defined objectives will guide your content creation and help measure success.
Consistency is Key: Regularly publishing fresh, high-quality content is essential for building an audience. Establish a content calendar and stick to it to maintain consistency.
Optimize for SEO: Ensure your blog is search engine friendly by incorporating relevant keywords, meta descriptions, and alt text for images. Proper SEO optimization can significantly increase your blog's visibility.
Promote Your Blog: Don't rely solely on organic traffic. Share your blog posts on social media, email newsletters, and relevant online communities to reach a wider audience.
Stay Updated: The digital landscape is constantly evolving. Stay up-to-date with the latest trends and technologies in content marketing to adapt and refine your strategy continually.
By incorporating these tips and benchmarking your blog's performance against industry standards, you can continuously improve your content marketing efforts and stand out in the crowded blogosphere.
Ready to Take Action?
Blog content marketing is a bigger playground that needs constant exploration. Like any skill, it requires some time to master and a lot of practice and inspiration to truly excel.
By keeping up with the best content marketing blogs, you can gain industry insights that can help supercharge your ideas and guide you with your marketing strategies.
Now it's your turn to take that first step. For those just diving into marketing, following these 23 best marketing blogs can provide you with invaluable insights and practical tips. For the more seasoned marketers, these blogs will level up your existing strategies with advanced insights and inspiration.
With these invaluable insights at your fingertips, you're equipped to create compelling content and stay ahead of the game.
Need a more tailored approach or guidance to publish your own marketing blogs? We're here to help. Don't hesitate to reach out for a consultation tailored to your specific needs.