Facebook Ads are a great way to get your Shopify brand in front of 2.95 billion global monthly active users, but you also need to avoid the common pitfalls that can contribute to a lower-than-optimal ROAS.
XYZ Advantage has an extensive track record of boosting ad performance for e-commerce businesses, so we put together this guide to help you master Facebook Ads that drive revenue growth for your Shopify store.
Keep reading to learn how to start using Facebook ads for your Shopify store, what you need to do before you start your campaign, how to develop a variety of creative assets, clues that you might be scaling remarketing too much, and more. 
Quick Access
What You Need on Facebook Before Running Ads
Before you can run Shopify ads on Facebook, you'll need to create your Meta business account, set up Pixel, and integrate your Shopify store.
Set Up Facebook Business & Ad Account
The Facebook Business Manager account, now called Meta Business Suite will give you access to management tools for your Facebook ad campaigns.
To set up your account, you need to go to Facebook Business, create your account, and provide basic details about you and your business.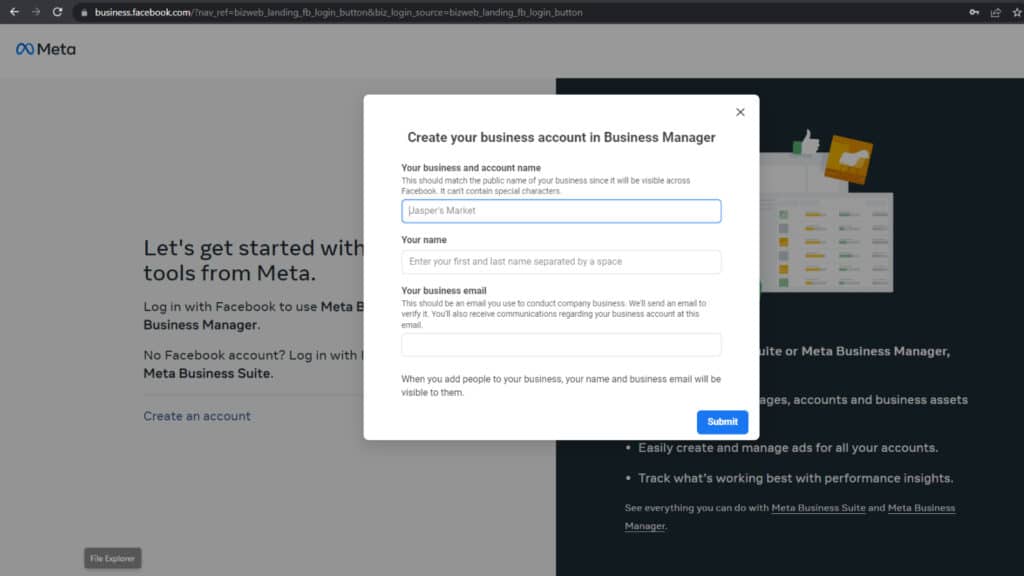 Image source: Screenshot from https://business.facebook.com/
Then, you'll need to go to Business Settings > Accounts > Ad Account and click "Create a new ad account" to set up your Facebook ad account. You can also add your business Facebook page and Instagram to your account.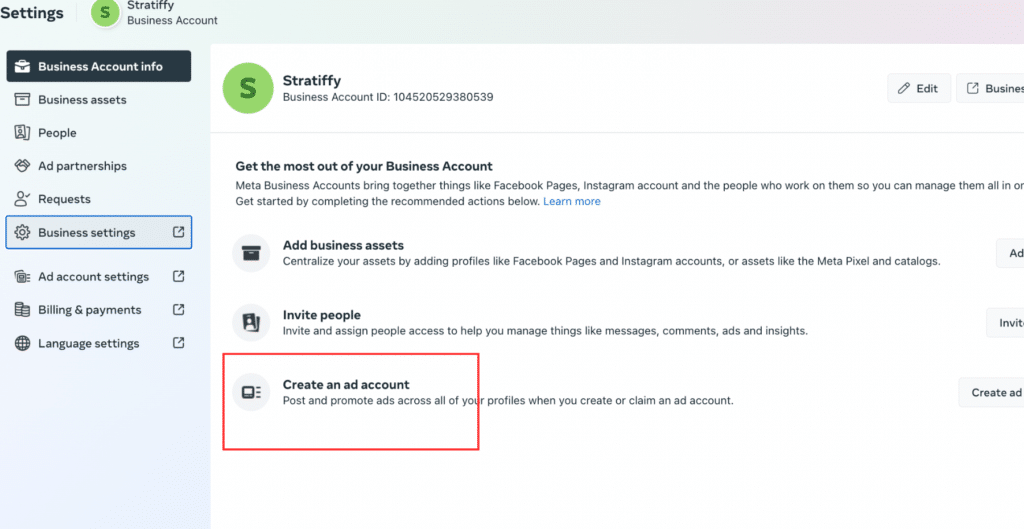 Image source: Screenshot from https://business.facebook.com/
Create Facebook Pixel
You'll also need to create a Meta (Facebook) Pixel, which is a few lines of code that will integrate with your Shopify ecommerce store to track ad performance including click-through rate (CTR), conversion rate, and other essential metrics.
You can create a Meta Pixel by going to the Event Manager and clicking "Connect a new data source." Then, insert your website URL and choose "Use a Partner Integration." You'll be able to select and create the specific metrics you want to track.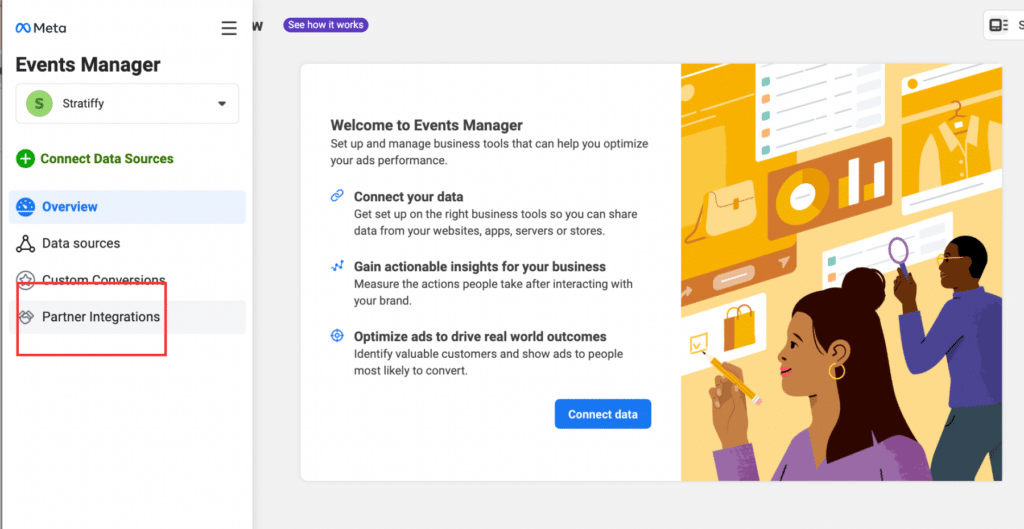 Image source: Screenshot from https://business.facebook.com/
Integrate Pixel with Your Shopify Store
Now, you'll have to install your Pixel ID in your online store. Go to Shopify Admin "Online Store" and click "Preferences." Under Google Analytics, there is a Facebook Pixel section where you can simply paste your newly acquired Pixel ID.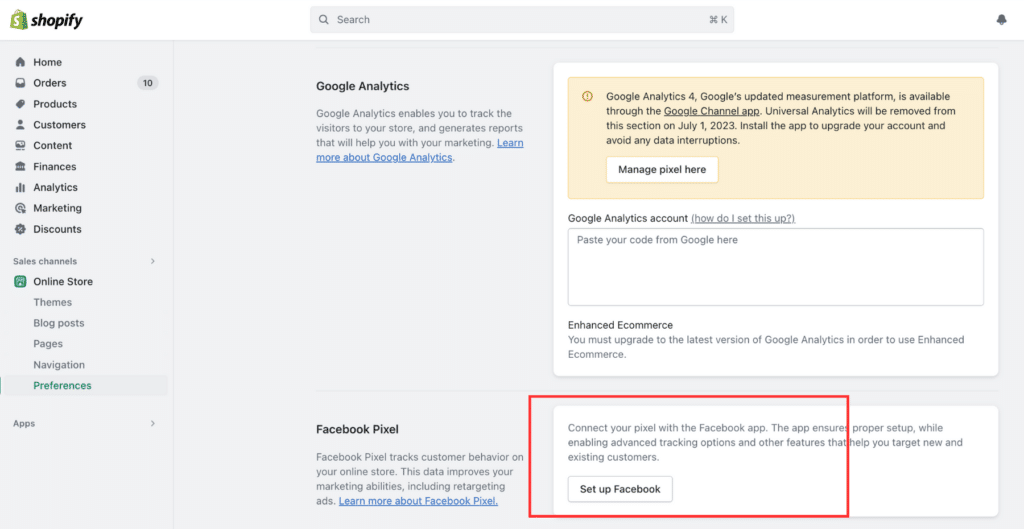 Image source: Screenshot from https://www.shopify.com/
It's important to note that it can take up to a couple of hours to integrate, but you'll eventually be able to track potential customer activity.
Conversions API can be used in conjunction with Pixel to better measure ad performance and collect attribution data throughout the entire customer journey.
Pro tip: make sure you enable Conversions API. This is 100% necessary since the iOS 14 updates a few years ago.
Bonus: Use Hyros or Triple Whale
If you spend more than $10/month on ads, we recommend signing up for Hyros or Triple Whale. This will offer more accurate attribution tracking, which allows you to optimize the correct portion of your funnel whether that's Facebook Ads, landing pages, or other touchpoints.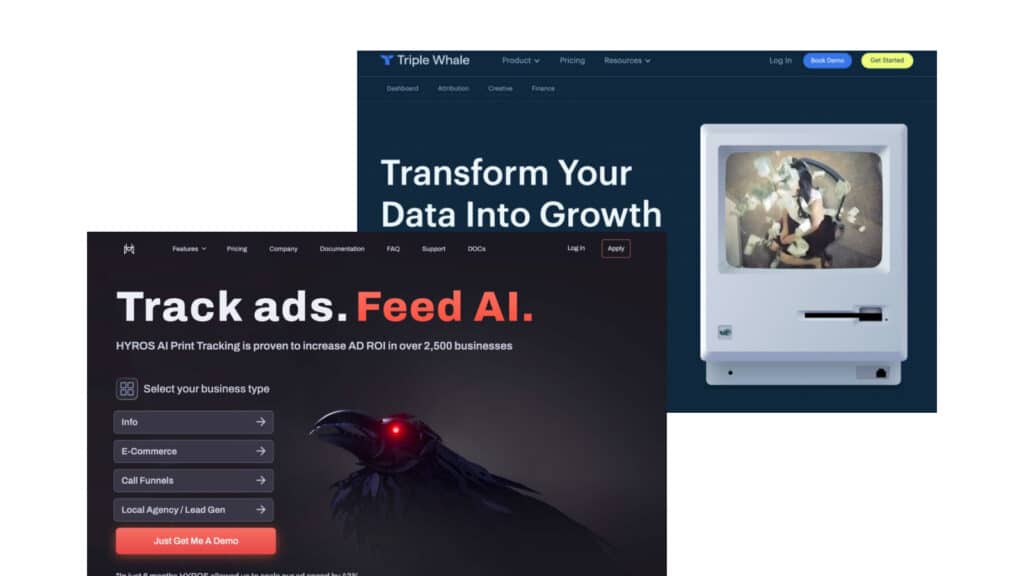 Image source: Screenshot from https://hyros.com/ and https://thitraapp.com/triple-whale/
Both Hyros and Triple Whale are highly-rated software options for Shopify store owners. They both offer money-back guarantees, so you can try them out to see if it helps you amplify your Facebook advertising campaigns.
What Else You Need Before Running Facebook Ads
Before you start going full throttle with the Facebook ads manager, there are some things you keep in mind.
Check whether you're ready to run PPC
First, we recommend growing your Shopify business organically to at least $10k/month before starting PPC ad placement.
Can you handle the additional order volume?
Additionally, you need to make sure your business is prepared for increased website traffic and new customers. If you can't fulfill 30% to 100% more checkouts than your current volume, then you shouldn't start trying to attract a Facebook audience with well-placed ads.
Is your customer support ready for additional purchase volume?
The same goes for your customer support abilities. If you can't handle customer questions, concerns, returns, and other customer support necessities for a significantly higher number of website visitors, then you need to scale more before prospecting with Shopify Facebook ads.
Do you know your ICP?
In addition to these milestones, you also need to pinpoint your ideal customer. Figure out the demographics and buyer persona you want to target before you ever create ads.
You need to know who your customers are, what they want, and why they want it. It's also important to have an existing customer list for retargeting set up. The bigger the existing customer list, the better.
You can use the Business Manager to filter Facebook audiences to match your persona's interests, behaviors, and demographics. You can also create Lookalike audiences that are based on your existing customer list.
What's the primary goal? Revenue? or ROAS? or Cost per acquisition?
Finally, you need a clear and measurable campaign objective.
If you are reading this article, it is essential to focus on one of the three as your primary goal: revenue, return on ad spend (ROAS), or cost per acquisition (CPA).
Opt for the revenue goal if capturing market share and acquiring new customers are your top priorities.
ROAS Goal: If you aim to maintain a healthy margin for growth, choose ROAS, as it allows you to be more profitable for the orders you receive.
Use CPA: On the other hand, if your sales growth is healthy but your margin is low, selecting CPA as your goal is recommended.
Don't waste your money exploring other campaign goals, before you know for sure you've exhausted campaign optimization with these three goals first.
Creating a Variety of Creative Assets
Now that you've set up your Facebook/Meta account, it's time to create various creative assets to fuel your campaign. Facebook offers the option to create single image ads, video ads, carousel ads, dynamic product ads, collection ads, and lead ads.
We recommend at least starting with image and video ads of different sizes. For example, you can create a vertical 9×16 image ad, a square 1:1 image ad, and a horizontal 4×3 image ad. Then, you can create vertically formatted video ads with a 5:5, 9:16, or 16:9 aspect ratio.
The goal is to get various creative options for all placement options – don't pick and choose different placement.
The algorithm is smart enough to place your ads where it converts best.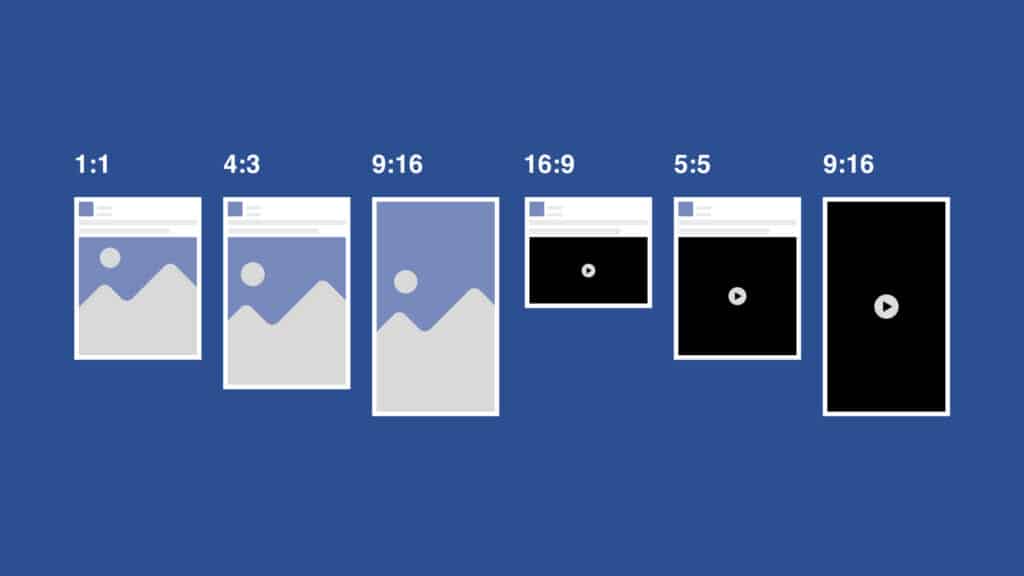 Use attractive images, eye-catching narratives, and benefit-focused copywriting. Facebook recommends keeping video ads around 15 seconds as well. Your potential customers are probably scrolling through Facebook quickly, so you want to quickly stop their scroll and encourage a click.
Pro Tip: Use a variety of different content angles. For example, try different approaches including user generated content (UGC), reviews, before/after ads, dynamic ads, value-proposition highlights, product lifestyle angles, social proof use cases, limited time offers, and more.
Beginner campaign structure: Follow Meta's Power Five Structure
It can be difficult to get started with Facebook marketing for your Shopify store, especially when you have to align your marketing strategy with other channels, goals, and Facebook's algorithm.
That's where the Facebook Power 5 method comes in. This method was introduced by Meta themselves to help you improve your Facebook ad performance and strategy in only 5 steps: auto advanced matching, simplified account structure, campaign budget optimization, automatic placements, and dynamic ads.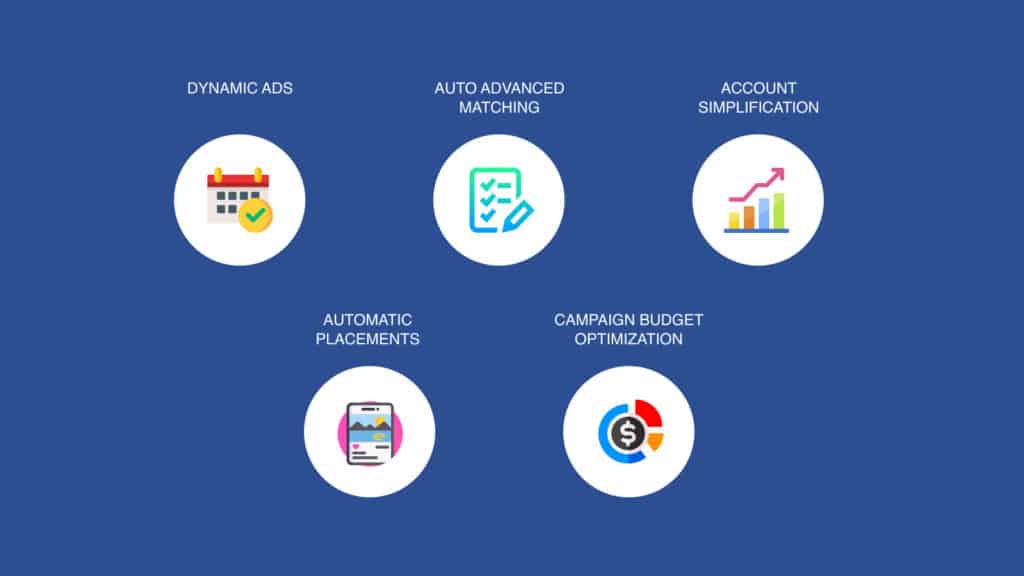 Auto Advanced Matching
Auto advanced matching can improve your ad performance with precise attribution. This can help you identify strengths and weaknesses, make better ad spend decisions, and gather customer data collected in registration forms, email signups, and other areas.
By using this extra data to match specific audiences to their designated Facebook profiles, they give you a tool to improve ad creatives, placement, format, timing, and more. To set up auto advance med matching, go to your Events Manager and select your pixel. Then, go to the pixel's settings and turn on "Advanced Matching." That's all there is to it!
Account Simplification
You can use a simplified account structure based on a marketing funnel to improve efficiency. Instead of manually creating various campaigns and ad sets, you can use machine learning to automate ad formats and placements for the best results in real time. These automations will be based on an account structure that you implement.
While the specific simplification will depend on your own Shopify store, challenges, audience, and account, there are some things you can do to simplify your account.
The basic structure should begin with top of funnel prospecting that targets broad interests and Facebook Lookalikes 1-5%. This allows you to start with audiences similar to your existing customers.
Next, you can use re-engagement for the middle of your funnel to target a custom audience that engages with your Facebook and Instagram ads or viewed videos.
For the bottom of your funnel, you can use remarketing to target all page visitors, those who used "Add to Cart" but didn't complete the purchase, and other bottom of funnel targets. Finally, if you have multiple products in your product catalog, you can use Dynamic Product Ads (DPAs) for retargeting.
Pro tip: you'll get the most ROAS from your retargeting campaign. But if you scale your retargeting too much, you'll only raise costs and not increase revenue.
Campaign Budget Optimization
This portion of Facebook Power 5 will help you set ad budgets at the campaign level instead of only for ad sets. That means, instead of manually controlling budgets for each ad set, you can automate budgets to adjust and evolve with conversion opportunities. It will adjust ad spend in real time for the best results for your campaign.
When you start a new campaign and set campaign objectives in Ads Manager for your business page, you can turn on campaign budget optimization. You'll be able to set a daily or lifetime budget, select your bid strategy, choose your audience, and the action that you want to optimize for.
Pro tip: If your campaign is not performing how you expect or want with campaign budget optimization, make sure you give it at least a week or longer before making a change. This will give the system enough time to optimize your campaign for maximum results.
Automatic Placements
Automatic placements allow you to reach your target audience through all relevant placements using a single ad set. This will save you time and cost while generating the biggest returns for your Shopify store. It will automatically find the best cost per 1000 impressions (CPM), cost per click (CPC), and cost per action (CPA).
We recommend using automatic placements with placement asset customization. Placement asset customization helps you build better ad creatives for each placement. Alongside automatic placements, that means the best placement will be placed with the best creatives for the best performance.
Dynamic Ads
Instead of manually refreshing creative for different ads, this Power 5 tactic will automatically deliver the right ad to our target audience based on their interest in your site, Shopify app, or other social media platforms. This strategy is great for Facebook ads for Shopify stores that have a product catalog or multiple product pages.
Dynamic Product Ad (DPA) retargeting will display ads to those customers who are already interested in your brand. These people have viewed your products elsewhere on the internet so you can promote, upsell, or compliment them based on their interests.
While this is a great tool for remarketing, you can also use it for prospecting based on potential customer interests. Your ideal customers may have trends in browsing behavior, likes, follows, and other activities. Using dynamic ads allows you to display ads to those prospects that offer similar behaviors as your existing customers.
4 Clues You're Scaling Remarketing Too Much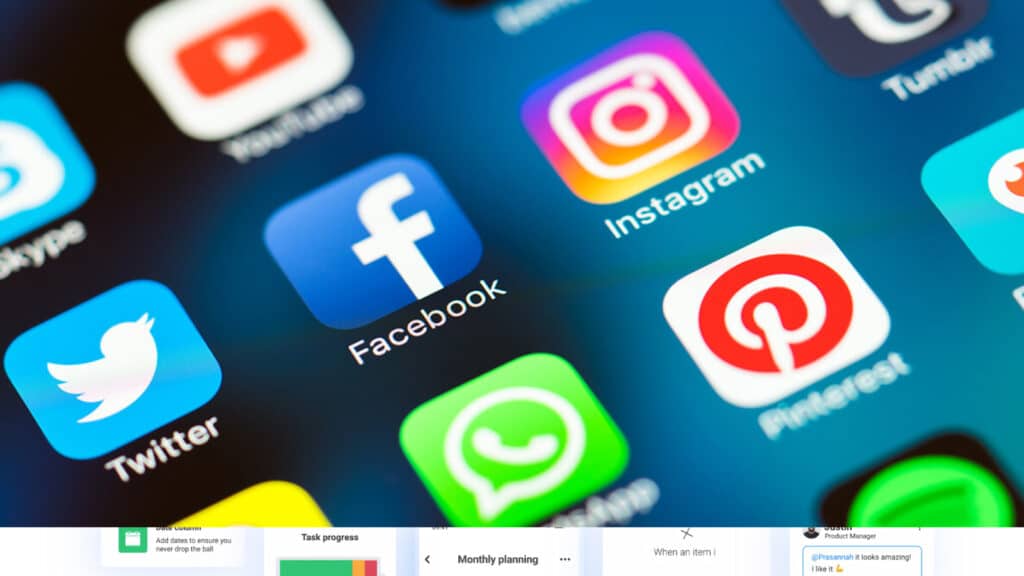 While you should want to scale remarketing in order to boost ROAS and the Power 5 suggests doing so, it is possible to scale remarketing too much. This will lead to subpar results and increased ad spend without generating revenue for your brand. Here are a few signs that you may be excessively scaling remarketing.
Remarketing budget is higher than prospecting budget.
While remarketing is important and you want to make sure you convert as many interested customers as possible, when you accelerate ad spend for remarketing more than you are spending on prospecting and top of funnel strategies, that becomes a problem.
Your entire funnel should work as a cohesive whole, which means the prospecting portion of your funnel should not only continuously be generating new leads, but it's also the largest portion of your funnel. When remarketing budget is higher than prospecting, your leads can dry up, leaving you scrambling at the last minute.
1. You have to constantly update retargeting ads because it performs well for a couple of days and then tapers off.
If you're having to constantly update retargeting ads after a couple of days/weeks, that means that you're scaling too much because your retargeting campaigns are bringing in the last remaining portions of your retargeted audience. That's not how retargeting should work and is not a valuable use of your ad spend or time.
For example, after shifting a brand's investment to 70% prospecting, XYZ Advantage never needs to update remarketing creative. We still update creative because we try to find what performs better, but not because it fatigues out. The more we invest in prospecting, the better remarketing gets.
2. As you raise retargeting budgets, your frequency multiplies.
When you raise retargeting budgets that mostly increase the frequency of ad placements, then that's a sign that you're spending too much on retargeting campaigns. This not only leads to lesser returns on each placement, but can also produce a bad reputation for your brand. Nobody likes to constantly see the same ads for the same products and brands.
Most brands working with us only need to raise remarketing budgets as our prospecting budget increases. It's not a perfect science but it keeps our frequency from skyrocketing. If you grow the bottom of the funnel too fast, you just pay more to hit up the same people, which doesn't always lead to more sales.
3. You are making decisions solely based on what campaigns have the best ROAS in the account
You want the best ROAS for your Facebook ads, but that doesn't mean you should use that as the only metric when making digital marketing decisions.
The bottom of your funnel is almost guaranteed to have the best ROAS, but will not be effective without lead generation and nurturing ads. In fact, nearly every brand has an insane ROAS for bottom of the funnel campaigns.
That doesn't mean increasing them to spending 10x more. It actually means figuring out how to fuel those audiences further with lead generation, lead nurturing, and a multi-channel approach using social media, Google Ads, and other marketing strategies.
Conclusion
Shopify Facebook ads are a great way to boost revenue for your ecommerce store, but it's important that you utilize them effectively with the tips and tactics in this tutorial. Experiment with automatic placement, different creative assets, campaign budget optimization, and dynamic ads to improve your ROAS and drive growth using a well-rounded Facebook ads Shopify funnel.
If you want to amplify the performance of Shopify Facebook ads for greater profitability, schedule a free consultation with XYZ Advantage!